What to Expect
We appreciate the opportunity to work with you! Our goals:
Create a comfortable & healthy environment for your family
Help you understand all components and services
Match your needs to the best possible solution
Ensure high quality installation
Provide the best price possible
Finding the Best System for Your Home
Our free in-home assessment begins with a computerized load calculation. Not all contractors do this.
Determining the proper load calculation is an important part of designing an efficient system. An undersized system can cause higher energy bills. An oversized system can cause temperature swings and an overpriced installation.
Next, we'll ask some questions about your home and budget. During this short survey, we'll determine which features are important to you. Some options will include:
This will give us all of the information needed to provide you with several equipment options that will suit all of your needs. The entire process will take about 90 minutes.
Customer Reviews
Ben Northcutt
January 29, 2023.
Came way faster than expected and Aaron Schneweis was courteous, explained what he was doing and why. Would highly recommend Aaron from Reddi!
Jerry Longabaugh
December 23, 2022.
Ken did a great job diagnosing the problem with mt furnace and fixing it!
Deborah O'Brien
November 30, 2022.
On November 9, 2022, Dave Furlong, from Reddi, repaired the circuit board and the blower on our heating system. During his routine maintenance assessment, as well as with our specific input, Dave determined that these two parts needed to be replaced. We absolutely trust Dave and his assessment skills. The quality of work he performs is exceptional. After this job was completed, Dave then finished performing our routine maintenance check on our heating system. All else was in good working order. Dave is always professional and informative. It is obvious that he is knowledgeable and is committed to doing a great job. Dave is a true gem at Reddi. We are very grateful to know him.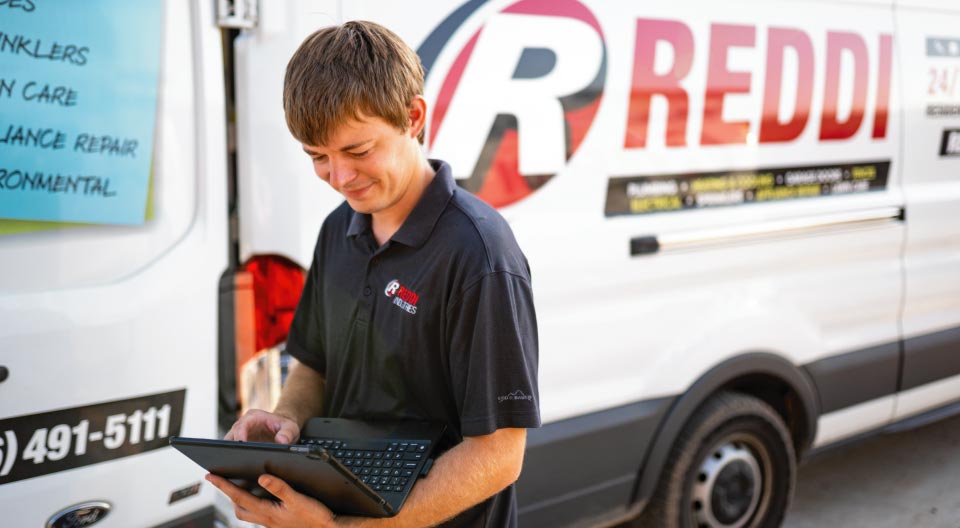 Why Reddi?
Reddi was founded more than 60 years ago. Today we have 10 residential and commercial services lines. We are locally owned, and fully licensed and insured.
Respect for your home and family is an integral part of our service. Our technicians undergo background checks and drug testing. Employees operate branded vehicles, and wear company uniforms.
Our Systems Include:
10 Year warranty
Satisfaction guarantee
Free tune-ups for one year
Affordable financing options
Financing Options
We offer several financing plans through our lending partner, Ally Bank. A soft credit check is required. This does not impact your credit score.
Your estimator will explain financing options, or you can apply here. (Your actual system cost will not be available until after your in-home assessment)
Thank You!
We are confident in the quality of our work, and will always do our best to ensure your experience is a positive one. If you have any questions or concerns, your estimator will be able to provide prompt answers. If you need to speak with someone before your appointment, please feel free to call any time – 316-462-2572.