Commercial HVAC Rooftop Units
Reddi Heating and Cooling sells and installs commercial hvac rooftop units in the Wichita area.
Our rooftop units provide industry leading efficiency and excellent indoor air quality for businesses of all size. Our commercial HVAC systems are a cost effective way to improve comfort and energy efficiency. Call to schedule and estimate:
If your commercial property is operating with an older HVAC system, you could benefit from a modern system which may offer quieter operation, enhanced comfort controls, reduced maintenance costs, and lower energy bills though reduced energy usage.
Rooftop HVAC systems are available in a number of configurations designed to satisfy your buildings needs. We offer split systems and packaged units for rooftop installation. We offer commercial HVAC systems from 2 to 100+ tons, with an array of options and features to accommodate your goals and budget. From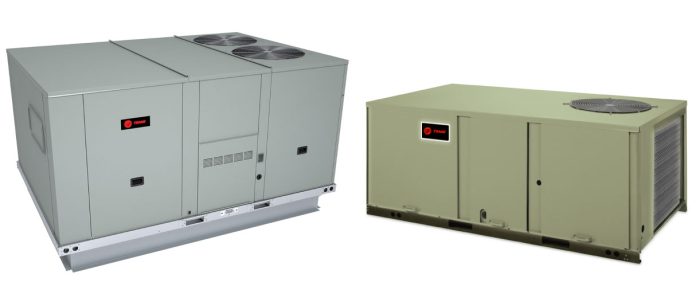 Wichita Rooftop Unit Replacement
Our commercial HVAC services are available in WIchita, KS and the surrounding area. Reddi as operated in Wichita for more than 60 years, and we have a talented team of technicians and comfort specialists who can help you find, install, and maintain your new system.
Competitively Priced Commercial HVAC
We do our best to keep our system and installation prices as low as possible without sacrificing quality. We provide efficient, sustainable HVAC products that meet or exceed government requirements for commercial buildings.
Zoned Rooftop Systems
We offer Trane Zoned Rooftop Systems for small and medium sized commercial buildings. This is a cost-effective solution that can greatly improve comfort and increase energy efficiency, while simplifying operation and maintenance. These packaged systems can be single or multiple zones, with multiple options for efficiency. The offer simple installation, and easy-to-use controls.
Reddi is a Trane Comfort Specialist. We services all brands of commercial HVAC systems.