Reddi HVAC provides expert heating and air conditioning service in the Andover, KS area. We repair, install and maintain all brands of furnaces and air conditioners. We also work on heat pumps, geothermal systems, commercial HVAC systems and more.
Air Conditioning Service
From a simple AC tune-up to complete air conditioner installation, we provide expert service 24/7. Visual inspections are free and there's no additional charge for after hours and weekend calls in the Andover area.
An efficient air conditioner can reduce your energy bills and provide consistent comfort throughout your home or business. We ensure your AC is running at optimal performance, which can help you save money and prolong the life of your air conditioner.
Fast AC Repair and Installation in Andover
If need a new AC unit we have a number of options to meet your budget. We also offer financing for new air conditioners and AC / Furnace installation.
If your air conditioner isn't running as well as it should, or if you just want to be sure your system is safe and efficient, we provide fast repairs, annual AC tune-ups and regular maintenance plans to your HVAC system up and running. For reliable AC service in the Andvoer area, don't worry, call Reddi!
24/7 HVAC Service
Air conditioner Repairs
HVAC Installation
AC tune-ups
Thermostat Repairs & Replacements
Duct Repair & Installation
Air Quality Improvements
Whole House Humidifiers
Commercial Service Plans
And More
Furnace and Heating Service
A efficient furnace can reduce your energy bills and ensure your family is safe. We install, repair and maintain all brands of heating systems in the Andover and Augusta, KS area.
If your heating systems isn't working properly, it's important to have it checked out. Gas furnaces can leak dangerous into your home or business, and an inefficiently system can cause higher energy bills.
New Heating and Air Systems
We also provide expert furnace installation and replacement. A furnace typically lasts about 25 years, but at some point the cost of repairs will warrant a new system. If you think your furnace is near the end of its lifespan, or if you'd like a more modern energy efficient model, we can help.
In addition to traditional heating systems, we also install and service heat pumps and geothermal systems. These heating options provide added efficiency and reduced energy usage. If you'd like to see how a heat pump or geothermal system can could benefit your home or businesses, get in touch for a free consultation.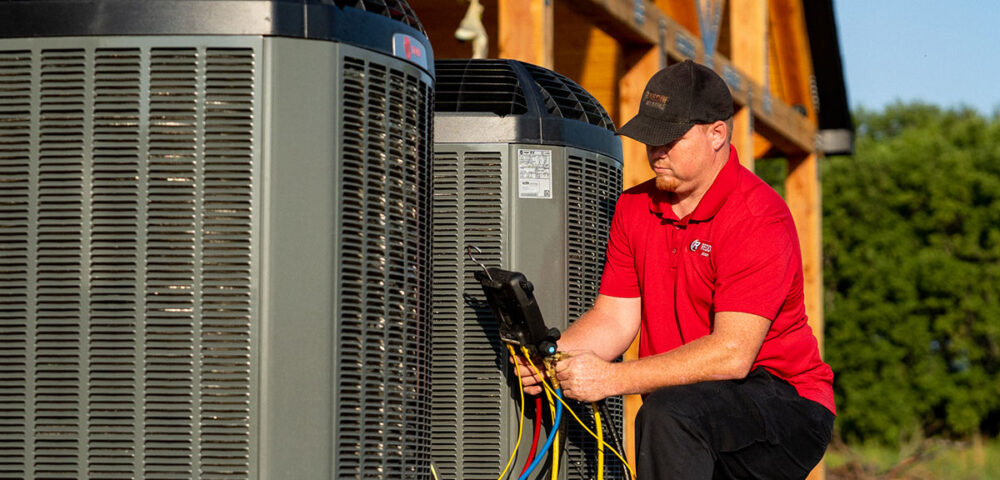 We specialize in Trane and American Standard installations. Our techs carry a large selection of parts, filters, thermostats, and tools for fast repairs.
Have furnace or heating questions? Visit our furnace FAQs.
We're available 24/7 in the Andover area. If you have any questions or would like to schedule service, give us a call: